Located in South Setauket, Long Island, Long Island Computer Repair specializes in on-site and in-shop laptop / notebook repair services. We fix hardware and software problems, and specialize in:
Laptop "Tunes-ups" & Preventative Maintenance
Laptop Windows Setup, Configuration & Repair
Laptop Upgrade (hard drive, memory, cd-rom etc replacement) and much more...
We know how important TIME is for you and we know how frustrating it is when your laptop breaks down and you need a fast turnaround with a professional service. We will respond promptly and we'll have you back in working order either the same day or the next day in most cases, because we know how important it is for you to have your laptop running.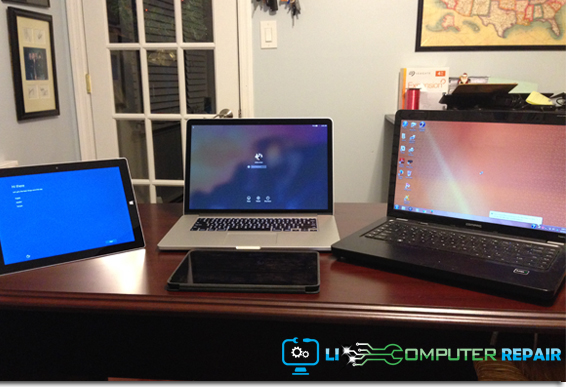 We troubleshoot, diagnose, build, service, maintain and repair on-site and in-shop all type of laptops, hardware & software (ACER, DELL, HP, Lenovo, COMPAQ, IBM, SONY, FUJITSU, TOSHIBA, GATEWAY etc) with Fast Turnaround, Reliable Service and Affordable Prices.
We offer FREE on-the-phone laptop diagnostic/estimate. Let a professional technician tell you what the problem is for FREE.
In-shop (you come to us) laptop repair / data recovery / upgrade / virus removal services. Get FREE diagnostic / estimate service (with service only*) at affordable prices; one to two days are required for most hardware and software laptop repairs. Bring it in today, pick it up tomorrow. Additional time may be required for ordering parts or waiting for the availability of parts. Ask about our Express turn around times.
On-site (we come to you) laptop repair / networking / virus removal services are offered at affordable prices with no travel fees. On-site computer repair services include: laptop "tune-ups" & preventative maintenance; laptop BIOS repair / troubleshooting, laptop network installation & repair (wired & wireless), laptop internet setup (Wifi, Cable, LAN) etc.
FREE laptop / notebook pick up within Setauket and surrounding areas. For information just give us a call at (631) 805-3409, send us an email or go to our contact page and fill out the form to have your laptop picked up today.
Laptop Adware, Spyware & Virus Removal - Does your laptop have one of the following problems: slow performance, Internet Explorer errors or lockups, excessive "pop-up" advertisements, home page has changed, email or Internet access a lot slower... etc? Then it's possible that your laptop is infected with a virus or you got invaded with spyware and adware. Immediate virus, adware and spyware repair is needed to remove the virus and/or spyware, adware from your laptop and ensure both the privacy of your files and that the virus does not infect other computers or laptops.
Long Island Computer Repair will come to you on your schedule for all your Long Island computer repair needs.